Social issues
Procurement and Contracts
Home
>
News overview
> ECA South Africa launches new magazine 'SA Electrical Contractor' and newsletter 'Wired'
11/27/2017 01:39 PM
It's a great pleasure to read that the South African Electrical Contractors Association ECA SA was inspired by our last Council in Oslo to start their digital magazine and newsletter 'SA Electrical Contractor' and 'Wired'.
In this picture: ECA's national Director Mark Mfikoe and Erika Van Zyl, ECA's national Communication Manager during the launch at the Presidential Excellence Awards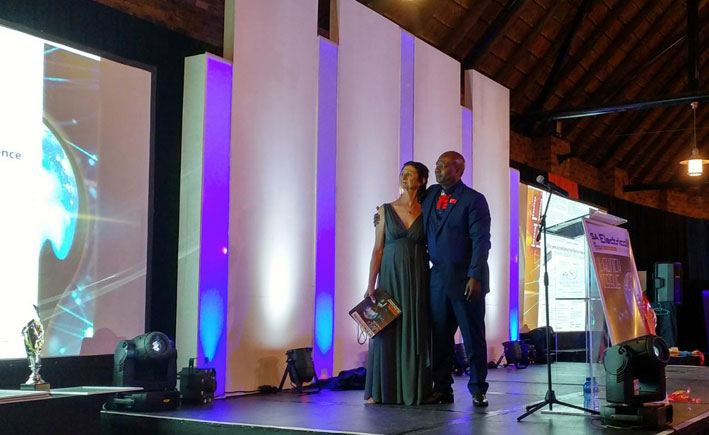 As ECA President Johnny Cunniff wrote in his first foreword:"The vision of establishing our own in-house magazine and launching it at our annual Presidential Excellence Awards is a now a reality. This first issue of SA Electrical Contractor has been accomplished with a great deal of hard work and dedication. … The idea of producing our own publications began at the European Association of Electrical Contractors (AIE) 2016 conference in Oslo, Norway in September, 2016. Mark Mfikoe - ECA's national Director - found out what the ECAs in other countries were doing and he came back inspired to do the same in a South African context. …
In June this year, we launched 'Wired', our electronic newsletter that goes live on the first and third Tuesday of every month – and judging by the analytics, Wired has gained popularity and is widely read and enjoyed by ECA members and non-members in the electrical contracting industry."…
In this edition you will find topics on:
• The history of the Electrical Contractors' Association of South Africa 1950 – 2017
• Electrical Safety
• Info on fair policy and contractual rights
• Social security benefits
• Transforming your cables through innovative solutions
• And much more…
Likewise AIE, ECA (SA) aims through advocacy in regulatory framework; education, training and development; advisory services; labour-related representation; as well as marketing publicity and strategic linkages, the ECA(SA) to continuously ensure that its esteemed EC members are kept abreast of all new industry developments.
On the question 'Why does the ECA(SA) even bother doing all this?' Dimatkatso Matshoga states in her article on 'The electrical contracting business' that the answer is simple: ECA SA wants to assure that electrical contracting businesses are getting to a point where the contractors exude an uncompromisingly competent business ethic.
The SA Electrical Contractor magazine can be viewed directly at AIE's digital library or via http://mags.contactmedia.co.za/ecasa/1/
> STAY INFORMED | Subscribe to our bi-monthly Newsletter