Social issues
Procurement and Contracts
02/16/2017 02:14 PM
EU BUILDINGS NEED TO GET SMART: The European building stock and energy system are at the initial stages of becoming smart: moving from a centralised, fossil fuel-based and highly-energy-consuming system towards one that is more efficient, decentralised, consumer-focused and powered by renewable energy.
But there isn't a single EU country that's fully prepared to take advantage of the benefits offered from smart building technologies that, for instance, allow the building to produce, store and/or use its own energy, the Buildings Performance Institute Europe (BPIE) states in a report published 16th of Feb. The report assessed aspects such as dynamic operability, energy-system responsiveness, renewable energy uptake as well as dynamic and self-learning control systems.
Sweden, Finland, Denmark and the Netherlands are at the front of the pack, having implemented policies that will enable this shift. In Sweden, Finland and Italy, nearly all consumers are now equipped with smart energy meters. Several other countries have started to roll out smart meters, but progress is slow.
This is where EU legislation could play a role, giving consumers more say on how and when they use energy and increasing the production, self-consumption and storage of renewable energy, it said. The report presents a series of progressive policies and innovative front-runner projects which prove the economic viability of smart buildings.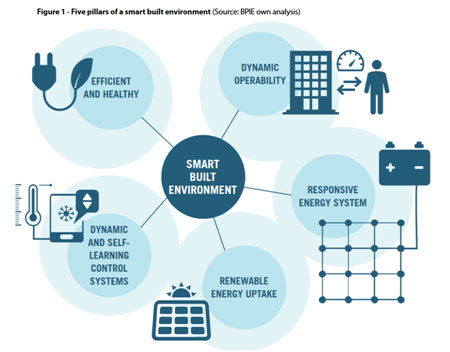 In mapping the smart-ready level of the built environment in the 28 EU Member States, 12 essential characteristics were defined. If Europe can ride the wave of the technological revolution, smart buildings will empower the occupants and bring clean energy to all.
> Download the full report and press release at BPIE or view the report at AIE's Digital Library
> STAY INFORMED | Subscribe to our bi-monthly Newsletter